Travelpogue, or Step In Time Pogues
Publication: Travelpogue on www.pogues.com
Sheva, a regular contributor to this web site's fora, has kindly agreed to document her travels as she makes her way to The Pogues' 2005 shows in Glasgow, Scotland.
U.K., 2005 U.S.A., 2006
Saturday afternoon...my flight leaves in a few hours. A routine bit of business for lots of people, but not me (or, to quote Lena Lamont, "I ain't people!") After all, England has loomed large for me since childhood, yet this will be my first time there. Ever since I was a kid, I've loved English music and pop culture with a fierce devotion. Although there's lots of music I love, the twin British Invasions rule my heart. I mean, come on, one of my all time favorite movies is "To Sir With Love"! Right now my brain is a mishmash of images, merging the London of the swinging 60's and the glory days of punk into one splendid mass. Carnaby Street and King's Road. Mary Quant and Vivienne Westwood. Petula Clark is singing "I Know a Place" in one ear, while Joe and the boys are bashing out "London Calling" in the other, and a young Pete Townshend and an even younger Shane MacGowan, two beautiful blue-eyed boys, are cavorting in their Union Jack-ets. And I'm caught up in the midst of all of it. I'm going to London. And I'm going to see the Pogues.
This will not be my first time seeing the Pogues, though. Back in the 80s, I was one of a handful of girls (ok, women, but you know what I mean) who loved Elvis Costello and followed him on his USA tours. Oh, did we love him. Loved the Attractions as well, of course, but he was the reason we were there. And sometime after the '84 tour, a couple of the more dedicated (meaning crazier) girls decided it was time to follow him on his home turf. So Cynthia and Natalie went off to England in search of more misadventures. When they came home, they regaled me with stories of the sights and shows they'd seen and the fun they had. They also told me about two bands they'd seen, these two being, I was given to understand, the two greatest bands in the world. And who were these wunderkind? Well, about the one group, The Men They Couldn't Hang, they didn't have much to tell me. Elvis loved them, and this was good enough for them. But oh, that second band. A bunch of not-quite-juvenile delinquents called The Pogues. They'd seen them several times, and had gotten to know them a bit as well. Were they really that good, I asked. Oh, yes, I was told – better than Elvis and the Attractions themselves, in fact. Now this was no casual comment, coming from these two – this was serious business. And you've met them – what are they like, I wanted to know. Much laughter at this point, followed by Natalie telling me "here's what you need to know about them. One – they constantly make fun of everything and everyone, including each other, and especially Elvis (we had yet to learn the term "taking the piss"), and two – they can drink anyone under the table, every last one of them".
OK, sounded like fun, but how was the music? I got hold of Red Roses for Me, and it only took until about the first chorus of "Transmetropolitan" for me to be convinced – there was serious fun going on here, and I wanted to join up. When they came over for that first tour, I went with Cynthia and Nat to see them in DC. I wish I could tell you more about that night, but sadly, it's all a blur. I just remember being knocked out by one great song after another, and (girly part here, sorry guys) being rather taken with a few of the band members as well.
Why didn't I go to see them subsequent times? I don't know. Looking back, I guess it was a combination of factors, and my falling-out with those girls probably didn't help. And next thing you know, almost twenty years have passed. This summer saw me contemplating yet another year sliding by without a trip to England, whilst wishing I could be with the folks in Guilford, Japan, or Spain to see the wonderful, reunited Pogues. That's when I decided – if and when this year's Christmas shows were announced (as I was sure they would be), I'd buy tickets and go. The time had come.
So here I am, not yet packed (and the flight leaves in a few hours), trying to decide what CDs to bring to provide the soundtrack for my lifelong dream. I land in London Sunday morning, and then head to Glasgow for the two shows there. Friends have asked if I'm sorry I made these plans, as the band has since announced a US tour (for which I already have tickets, thanks). I think, are they crazy? Did they just meet me? For as much as I'm looking forward to seeing the lads, there's more at work here. And while I don't expect to be greeted with a band of merry chimney sweeps singing "Step in Time", or find Eddy and Patsy waiting to take me shopping, I know I'm in for the time of my life, which I intend to capture for you as best I can.
Well, no chimney sweeps, perhaps, but I still feel welcome. The flight over was fine, surprisingly so – I'm accustomed to encountering some little problem or other. By the time we land at Heathrow, I'm so excited I practically dance off the plane. When asked at Customs my reason for coming, I unashamedly give the speech I threatened – that I've been in love with the country since childhood. The Customs agent is unmoved by this but lets it, and me, go through. OK, London, go ahead and charm me.
The Regent Palace turns out to be tucked into an out-of-the-way little corner right off of Piccadilly Circus. Beautiful exterior, unimpressive but serviceable lobby. The room is a small one, as I'd expected, with an absurdly tiny bathroom – the toilet's in the shower. But it's clean and comfortable – I'm happy.
I spend the next day and a half just getting a small taste of London – I'll save my big explorations for next week. The hotel really is ideally located – I've got Boot's, the tube, and a Virgin Megastore right outside the door, and a reasonably priced Internet café as well. I know I'm just doing the silly tourist-y things now – roaming around Harrod's, marveling at the Times Square meets the boardwalk quality of Leicester Square – but damnit, I am a tourist, might as well give in to it. I find myself shopping at H &M (they' re in the states as well, but they're bigger here, with a better selection) when it happens – I hear those oh-so-familiar opening notes on the piano, and quickly realize that "Fairytale of New York" is playing over the PA system. As soon as Shane starts singing I feel a huge grin spread across my face, and look down at a little girl, who's smiling up at me. Don't know if it's the song making her do that, but we smile at each other as the bells are ringing out for Christmas Day. And tomorrow I leave for Glasgow.
The flight to Glasgow is delayed just enough to throw a bit of a worry into me, but I still make it in plenty of time to get to the show. After all the warnings I've been given about shows here, I'm prepared for all sorts of drunken, rowdy shenanigans.
Carling Academy is a great venue – similar to the Trocadero in Philly but larger. I have an extra ticket, which I pass on to a friend here who isn't that familiar with the Pogues but is curious. We get in just as the Dropkick Murphys take the stage. I know lots of folks like them, but for me, there's just not enough there to latch on to – the songs all sound the same, and not in a good way. Besides, both singers are of the "why sing it when you can shout it in a hoarse monotone", which doesn't work for me. But the crowd seems to really like them. As soon as they're done, we stake out places in the front (or, in Bob Dylan fan parlance, "on the rail"). A bit of a wait, then "Straight to Hell" starts up, and here they are!
Everyone looks great and in good spirits. Philip is, as usual, turned out in a lovely black suit with matching hat. Shane is also in all black, not quite as natty but it will do. As recent pics have suggested, he's lost a bit of weight and seems fairly fit. They quickly launch into "Streams of Whiskey", and we're off! For the next not-quite two hours, I can't think, I'm just trying to take it all in. One beloved song after another – "If I Should Fall from Grace", "Body of an American", "Sally Maclennane", "Bottle of Smoke" ... all wonderful. Shane's in good form – the voice is a little ragged but right, no forgotten lyrics, and he seems to be in good spirits as well. Everyone's playing is tight and inspired; this is a band on top of their game. As has become the custom, Shane turns the mic over to the others for a song here and there – Terry's rendition of "Young Ned" is a knockout. Watching the show, I'm struck by a realization. With other favorite artists, no matter how much I love them, there's always a song or two that I could gladly do without – the concert moments my friends and I refer to as the "beer run" ones. With Dylan, it's "Tweedles", with Costello it's "Detectives". But the Pogues have no beer run songs! There isn't a single down moment or a song I could do without, and the energy level never drops, on stage or in the audience.
That audience – I'm waiting for the notorious Glasgow rowdiness to present itself but it never really does. I'd been warned that I wouldn't want to be by the front but it's fine. Yes, things get a bit crushed, but instead of the obnoxiousness I'm used to in the states, there's a pleasant camaraderie. It doesn't seem as if anyone's good time depends on annoying those around them, and I am having a ball!
Shane hands the mic over to Philip, and I know it's time for "Thousands are Sailing", a particular favorite of mine. As folks already heard, he announces the names of Medusans and others who've traveled far to be here, including "Sheva from Philadelphia"! Big thrill! And a laugh, too, as the pretty girl standing next to me all night turns out to be Carmen from California! The song is sung and played impeccably, and as usual makes me cry a bit, this time with a shiver down my spine as well. If Philip had done nothing else in his life but write this song, it would have been enough to establish his position in the songwriter's hall of fame; every time I hear it I'm struck by its eloquence.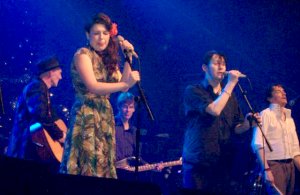 And before I know it, it's Fairytale time. Out comes Ella Finer, who is lovely and graces the audience with a sweet smile. Jem is beaming at her as only a proud poppa can – it's lovely to see. She's got a fine voice and blends well with Shane. How many hundreds of times has he sung this song, and yet he makes this performance seem special. That's a pretty nifty gift. They finish singing, start waltzing, and the fake snow is everywhere. It's just about the most beautiful moment one could ask for, and I know that there's nowhere on earth I'd rather be. Then Fiesta and goodnight.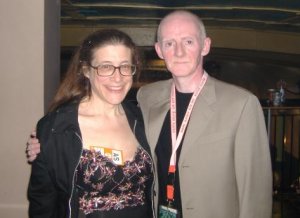 After the show, I meet up with Philip, who is even more gracious and charming in person as he is on-line and on stage. He takes my friend and me backstage where we get to meet the rest of the band, take a pic or two, and say thanks for a glorious evening. I ask Shane if I can have my picture taken with him, and he very sweetly says sure. We end up sitting together on the couch posing for several minutes while my friend struggles with the camera, prompting Shane to lean over and say "he's an idiot". Finally, Philip steps in to save the day and take the pic. Clearly he's a man of many talents. The evening came to an end with a most happy thought – I get to do it all over again tomorrow!
I spend a pleasant day in Glasgow and venture forth a bit, to Rutherglen. There's a lovely town hall with an exhibit explaining the town's history. For some reason, something about the main street brings Berkeley to mind, which I suspect would only occur inside my head. I decide that I can do without another night of the Murphys and go into the Carling Academy just as they leave the stage. Back to the front, this time more in the middle. The crowd seems rowdier tonight, or maybe it's just because I'm closer to the center (and Shane). The crowd is chanting one Celtics' cheer or song after another, not only before the show, but in between songs as well. As an American and non-sports person, I'm fascinated by this phenomenon – there's no US equivalent to this that I know of. There's lots more pushing and shoving than before, but even the worst of it is bearable, and the people around me are being as considerate as possible. I guess I remind them of their dear old auntie. Again, everyone seems better behaved than in the states, and truly enjoying themselves. The girl next to me sings along with Spider's penny whistle note-for-note, but only during instrumental bits, never when anyone is singing, which I appreciate.
The set list is very similar to last night's, although we get "Old Main Drag" this time around, which I hadn't expected to hear and was a real treat. Shane seems a bit looser tonight, making several funny faces at the audience. It's hard to know who to watch – keep an eye on Shane, and you'll miss one of Philip's trademark spins or his fancy footwork during Fiesta. Watch him, and you might not see James do a leap, or Terry suddenly smile as an instrumental passage goes particularly well. And can' t forget Spider, the birthday boy – his 22nd, cough cough. When the band launches into "The Irish Rover", Shane lags behind a bit, then speeds up. The band usually recovers from this quite well, but not this time. Finally, the looks on all their faces clearly say "right, fucked it up this time", but the audience doesn't care at all, in fact it's endearing – they're not perfect, but even in defeat there's a bit of glory. Philip gives the Medusa roll call again when introducing Thousands, and I blush to admit I turn to the couple to my right and say, "that's me". Shameless, I know. Andrew steps up to do a fine take on County Down, and we all sing Happy Birthday to Spider. Ella's singing on "Fairytale of New York" is even better tonight, if that's possible. Nepotism be damned, she's an excellent choice, and looks great with Shane as well. I'm prepared for the snow tonight, and put my hood up as the waltz starts. The one-two punch of "Fairytale of New York"/"Fiesta" is brilliant, and I go slipping and sliding across the beer-covered floor, to savor these last two nights and look forward to the shows still to come. I'll be staying on in Scotland for a bit – Glasgow's charmed me, and I'm eager to see more. But never fear, London – I'll be coming back to you soon enough.
The rest of the week went rather peacefully in Glasgow, which turned out to be my kind of city. A little grungy perhaps, a bit run down in spots, but with plenty of heart and charm, and the people there couldn't be lovelier – sweet as can be, and very friendly to a funny–talking stranger. I know I'll be going back there, and not just because it's a great place to see the Pogues.
Still, as the flight back to London touched down, I started to get excited. Spoke to a snuffly–sounding Miss Walshy, who was Birmingham bound despite an incipient cold. I wished her happy birthday and told her she'd have a wonderful time, guaranteed. Checked back in at the Regent, which is starting to feel like home, and headed to the pub where I found a smiling fellow in a Red Sox cap. Peter F and I traded the obligatory "Americans abroad" stories, and I told him tales of Glasgow, making him even more anxious for Tuesday's show. Signs are starting to pop up everywhere. The band in the pub – 'Free McGuinness', a great name – played a lovely if a bit watered down version of Fairytale of New York, followed by The Irish Rover. Pete and I sang along and watched as a group of (apparently) Irish guys danced up a storm with looks of concentration that even Baryshnikov himself would envy. I got tired and called it an early night, only to wind up watching a 'Greatest Christmas Moments' special on BBC 4. At number 11 – Fairytale of New York, of course. Got to see a snippet of a Shane interview along with others talking about the song. Ah, that Pogues spirit is everywhere!
But alas, I've been a bad fan. The single's been out all day, and I've yet to march into a Virgin or HMV and buy my three copies. I know, I know. But there were some things that had to be done today. Had to take a pic of 3 Saville Row (all good Beatles fans will recognize that address) as well as Waterloo Station (where I half expected 'Terry and Julie' to be waiting for me). And now, I'm about to fish Pete out of the pub so we can watch the Fairytale of New York documentary starting soon. Afterward, we've threatened/promised to tackle our own rendition of that most beloved song as it's karaoke night here. London, you've been properly warned.
Well, so much for that documentary – a quick call to fellow Medusan and FOS–er Christine confirms that I don't get BBC 3 at the hotel. Damn, damn, damn. But it does mean I can trot off to Virgin and plunk down my money for a couple of copies of the single in all its permutations. I pick up a few other things as well, blissfully ignoring the exchange rate as well as the ever–growing problem of getting all this stuff home with me. Ah, the life of a tourist. All this, and the London shows are still on the horizon – how will I get through the next 24 hours or so?
A somewhat interesting phenomenon occurs whenever I travel in the states. I'm never in a new city long before people start asking me for directions or other assistance. Not just other travellers, either - even natives get in the act. And no matter how new I am to a city, I find that I'm usually able to answer their questions. I think I just must have that sort of "go ahead, ask me" face. At any rate, it's only taken a few days for this to kick in here - a woman with a definite London accent asked for help finding the right tube exit. Glad to help, ma'am.
Meanwhile, I'm starting to wonder how people here stay so slim, with all this fabulous Cadbury chocolate around. My initial resolve to stay away from the tempting stuff faded almost immediately, and I've consumed a startling amount of it. At least I know I'm not the only one - walking through the hallway in my hotel the other night, I saw a crumpled dairy milk wrapper. It's too much to resist.
But it's time to head for Brixton. Pete has seen some frantic posts saying 6:00 is too late to get to the Canterbury, so we head out at 5:00, me still trailing bits of Glasgow fake snow from my handbag. The dire warnings turn out to be false, as there's plenty of time. We meet Carlos outside the academy - he's not planning to see the show tonight, but one encounter with a friendly couple from Norway later, he's got a ticket in hand and is all set. Gradually, a few other Medusans make themselves known - Christine shows up looking serene and ready to have fun. I go outside to get some air and see a perfectly adorable young woman fairly bouncing up the walk to the pub. Without asking, I know it's Miss Walshy, as fair and friendly a lass as you could ever hope to meet. A quick drink, then off to the gig. We all go in at separate times but somehow find each other in the crowd.
So here I am at the famous Brixton Academy, site of so many fabled shows. It's a fine venue, rather like the Glasgow Academy. But I've been spoiled, I'm afraid - this audience is definitely rougher and rowdier than Glasgow, lots more shoving and pushing. And where in Glasgow the security staff nicely passed out cups of cold water to the folks in the front, here the Brixton crew offers squirts from sports bottles! But even so, it's a far cry from the states, where it often feels as if the security staff is there to thwart your good time rather than aid it. We're waiting for the band and enjoying the brilliant work of DJ Scratchy, who goes back to the early days of punk, and who I'm pretty sure I heard DJing at my first Clash gig. In Glasgow, he knocked me out when he played The Bureau's "Only for Sheep", and tonight he does it again - "Roadrunner" from the Modern Lovers, Dexys' cover of the Bar-Kays' "Soulfinger" (must have been for our so-named Medusan!), and lots of great reggae. I'm actually disappointed when he cuts off Madness, then quickly realize he's playing "Straight to Hell". Showtime!
And what a show it is. The band is every bit as tight as they were in Glasgow, and Shane's even sharper - really on the money, the best I've seen so far. This time around, it's not just "Thousands" that makes me cry - Terry's knock-out delivery of "Young Ned" also moves me. The man is a class act all around. They all are, each in his own way. Philip is his usual dapper, graceful self - Cagney himself would be proud of this man's moves. And Spider - ah, me. I remember thinking he was just incredibly cool that night in Washington DC, and almost 20 years later he's still got it. As for Shane, he is mesmerizing. If there's another performer out there with more charisma, I'd like to see him. Can't imagine it, though. Philip gives the out-of-towners a shout-out before "Thousands", which remains a great thrill. And there's even a major foul-up - Andrew's mic isn't turned on for the beginning of "Sickbed". As Philip later explains to me, without being able to hear his 'TWOTHREE!', the band can't come in. So there they all were, ready - and nothing. A quick adjustment, and they go again (meanwhile, the look on Shane's face clearly says 'it wasn't me). The moment and the song are recovered just fine. And an added bonus - a trumpet on "Rainy Night" and full horn section for "Fiesta". But before we get there, out comes Ella, looking gorgeous in a fabulous red gown (which she later explains to me is her mother's). "Fairytale" is truly lovely, a Christmas card come to life. The fake snow can't reach the audience, leaving plenty onstage for a "snowball" fight during "Fiesta". And it's all over till tomorrow night. But what a great night, what a superb birthday for Pete F (who leaves the venue tired but very very happy), what a fine fine start to this three day stint.
As for me, I'm off in search of more chocolate and thoughts of wandering Portobello Road tomorrow before meeting up with our Miss Walshy. Cheers.
Have I mentioned that I love the tube? It's truly a fabulous public transport system, one of the best I've ever seen. Colourful stations, comfy seats on the trains, fast service, and best of all, it's supremely user friendly - you really can't get lost, and there's usually more than one way to get anyplace. The buskers are fun, too; I've caught some interesting acts. My first time in the tube, I was greeted by a bespectacled cutie bashing out a basic, generic, but still fun 60's style instrumental, which I took as just one more sign that I was in the right place. There was also the harpist at Westminster station and the elegantly dressed gentleman doing a credible job of some Michael Nyman tunes on his keyboard, but I think my favorite will have to be the Father Christmas playing a rockabilly rave-up version of "I've Got Rhythm". London, I don't know if you're a lady, but you are one wacky place.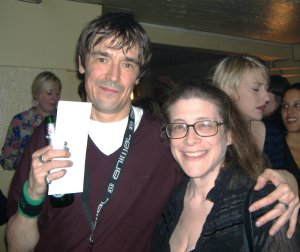 "The tube back to the hotel from the Brixton Academy has been a particular delight, with a different sing-a-long each night. But I'm getting ahead of myself. It's Wednesday evening, and I've found Miss Walshy along with a host of other Medusans, ready for round two. The crowd's a bit rougher tonight, but understandably so - the band is uptight and outta sight, and the crowd's loving every minute of it. I find myself watching James a lot tonight - he moves about the stage like a herky-jerky marionette, graceful and clumsy at the same time, and when he does one of those perfect drops to his knees, it's as if someone's suddenly cut his strings. He makes the accordion look like a really hot rock-n-roll instrument, and let's face it, that's not an easy task. Shane's singing is even better tonight than it was last night. He even breaks out the little point-and-walkabout shtick for "White City", and seems quite at ease on that stage. They all do. Philip has come up with a great little bit of business during "Old Main Drag" (which might not be new, it's just new to me, so please forgive me). He goes off to the side of the stage and just stands there, cig in hand, looking appropriately Runyon-esque. I try to get a pic but it's so dark. So many great moments are flying by, I hope I can hold them all in my head. When it's time for "Rainy Night", all three members of the horn section come out. I can't decide if I like it better with the full treatment or just the trumpet - glad I got the chance to hear both. And "Tuesday Morning" is growing on me. It's one that was never a favourite, although I certainly don't dislike it, but it's great fun live, and now I wouldn't want to miss it. At one point, everyone's ready for the next song, but Andrew's gone missing, prompting Shane to break out "Boys of Kilmichael", a fabulous impromptu treat. More great music, Andrew steps up to deliver another fine, fun take on "Star of the County Down", and it's Fairytale time again. Most eyes are fixed on Shane and Ella, but I steal a glance at the rest of the band. If any of them are tired of this song, you'd never know it by the looks on their faces. They seem as moved as the audience. The snow falls, Shane and Ella start to waltz. I'm watching them whirl faster and faster, Ella's skirt twirling out gracefully, and just as I start to think that if they're not careful, they'll slip - they do just that, tumbling to the floor in a laughing heap. Shane gets up and helps Ella to her feet, and no one seems the worse for wear.
After the show, one of the security guys hands me a generous handful of the snow, which of course leads to a little snowball fight with Miss Walshy. Just getting into the spirit of things, you understand. We meet up with Christine, Celtic Dave, and Alex after the show, and before you know it, it's another wondrous evening come to a sweet end. I get a bit lost walking to the tube but eventually find my way. It's gotten cold so I put on my sweatshirt (which had been tied around my waist during the show so I wouldn't lose it) and put my hand in the pocket - then quickly take it out again. It's full of beer. So, pocket full of beer and head full of music, I dance up and down the street and onto the tube.
So here it is, the final night of Brixton. I've been a good tourist today – went to Buckingham Palace, walked through Hyde Park, went batty trying to find the Peter Pan statue in Kensington Gardens. After that, it was off to the Camden markets. I go into a little shop to look at tee shirts, and get chatty with the shopkeeper. "Fairytale of New York" starts playing on his radio, and I mention I'm here seeing the Pogues. He approves, then tells me his wife is in love with Shane. I laugh and tell him that she's got a lot of company there.
After three nights, the Canterbury Arms is starting to feel a bit like home. The owner greets me at the door and says "your friends are here", gesturing towards Carlos and Miss Walshy. He's been quite friendly to me all week, pretty nice considering I haven't been drinking and therefore am taking up valuable space in his establishment. I make my way to the academy and catch the end of the Murphys' set. In the end, I guess they're not too bad, and it's nice to see how well they go over with the crowd – they've been a good opener. We're all excited for the last London show, but there's a bit of sadness in the air – as DJ Scratchy reminds us, it's three years to the day that Joe Strummer died, and he dedicates the evening to him. I'm singing along to "Clampdown" with a kid who wasn't born when London Calling came out, but he knows every word all the same. This time, when "Straight to Hell" plays, we get the whole song before the band comes out. At first I think something's wrong, but then it occurs to me that they've done it on purpose, a tribute to Joe. When they do come out and launch into "Streams", I know we're in for another great night. As with every other night, there's so much to enjoy, like Shane's little gestures for lines from different songs – the hand on the cheek and eyes heavenward for "they ruined my good looks'; the hand on the hip for "the women they got frisky'; and of course the various breast gestures for "sumptuosa Cait O'Riordan'. Tonight, that last one is accompanied by a quick hands-to-eyes "spectacles" move for "Costello, el rey del america', which goes by fast but gets a laugh out of me.
Then there's that marvelous moment that I've come to look forward to each night, at the end of "Body of an American", when everyone seems to find their own little spot on the stage. Philip stands on the drum riser, Jem and Shane help Andrew with the drumming, and tonight Darryl sits on the edge of the stage. This might sound strange, but it always feels solemn to me, almost sacred, and calls to mind the men in my synagogue finding a quiet corner for the silent prayer. But on second thought, maybe not so strange – after all, we're at Big Jim Dwyer's wake, it's an acknowledgment of death and a celebration of life, and the way the music plays so beautifully after the raucous singing always evokes that image.
As he has every night, Spider dedicates "Repeal" to his wife Louise, making his usual kissing noises into the mic. This always gets a reaction from the band as well as the crowd – some nights Terry joins in on the kissing. Tonight, Philip breaks out his Chevalier, crooning "every little breeze seems to whisper Louise'. He seems in good spirits, as do they all – at one point, he and James dance across the front of the stage. James is, once again, a marvel to watch, arms and legs akimbo (Lord, I love that word, and am always grateful for an excuse to use it). Then it's time for "Thousands" once more. It's even lovelier and more poignant tonight. The women next to me are singing along, and it's clear from the looks on their faces that they're as moved by the song as I am. I wish they'd play a marathon-length version of it, it could go on all night as far as I'm concerned.
But of course we must move on, and it's one last chance to bask in the glow of "Fairytale of New York". When I spoke to Ella the other night, she talked about how good it felt to be onstage with the Pogues, who she views as her extended family, and it fits. Shane, in particular, strikes me as that uncle who seemed a bit scary when you were a kid but who always had a joke or a little present for you. After last night's tumble, he and Ella waltz with a bit more care, Shane holding her tenderly. It's magic.
And then it's over. I collect myself and reluctantly make my way back to the hotel. It's been an amazing three nights. Wish I were going on to Dublin, but instead I'll spend tomorrow saying goodbye to London.
My last day in London is lovely but hectic – stores and streets are jammed with frantic shoppers. I keep forgetting that it's the day before Christmas Eve, although you'd think the carols and lights everywhere would be a clue. Still, it hasn't been the same as in the states. Instead of being tormented by "Grandma Got Run Over by a Reindeer" and that sappy version of the little drummer boy, I've been enjoying Slade and Wizard's 70's Christmas hits playing constantly, along with our beloved "Fairytale of New York" of course. I finally visit the antiquarian bookshops on Cecil Court and find them as glorious as imagined, if pricey. Somehow I manage to get myself and all my things to Heathrow and onto the plane, proudly wearing my tour shirt. The flight crew are all wearing tinsel, either in their hair or pinned to their shirts, and the captain refers to our "sleighride' to Philadelphia. And with our afternoon tea, there's a slice of Christmas fruitcake (which, quite unlike its American counterpart, is actually edible and pretty tasty). Everyone sitting around me is barefoot, and the floor of the plane looks rather like Nordstrom's several hours into their shoe sale. At one point, a woman sitting two rows behind me starts digging under my seat – it seems her boots really were made for walking and have wandered off. Eventually all footwear is claimed. I don't mind – I'm enjoying one of the audio programs, Mark Lamarr's musical journey. Don't have a clue who he is, but he's playing some fabulous stuff – the New York Dolls, Tom Waits, Tony Joe White, James Brown, some weird 60's garage band from Japan, all blending together nicely. And not only does he play the Pogues ("Lorca's Novena"), he keeps talking about them throughout the program. How did British Air know to have this ready for me? I suspect someone's been reading this, my suspicion growing when the flight attendant slips me some extra Cadbury. I happily eat it, invoking Sheva's Cadbury rule – mass consumption is acceptable while in the UK or flying over international waters.
So home again. This really was the trip of a lifetime, and having it based around the shows just made it that much more wonderful. Thanks to everyone I met and who shared the fun with me, thanks to DzM for graciously letting me have this space to ramble on, thanks to the band for all that fabulous music, and Philip, thank you for all your kindness and generosity. The fans here can't wait to see you all, and I'll be counting the days myself.
And Glasgow and London – don't worry, I'll be back.
---
Atlantic City was a nightmare.
OK, that might be putting it too strongly. It wasn't all that bad. But consider – a few short months ago I was seeing the Pogues play the Academy in Glasgow and Brixton, surrounded by fans who were at once wildly enthusiastic and well mannered. Fans who knew every word to every song, and who filled even the briefest quiet moment with one football chant after another. And now, here I was, in a friggin' Atlantic City casino. Instead of happy beery-eyed fans, I was surrounded by would-be Tony Sopranos (Tony Randalls is more like it). Instead of the incredible music DJ Scratchy thrilled us with before the UK shows, we had some blah canned crap. I mean, I suppose the Borgata is nice as casinos go, but it's no place for rock and roll. And for all the glitz, the hall itself is a big tacky box with lousy sight-lines and spotty sound. But this is what's happening – most acts you'd want to see are bypassing Philadelphia proper, and the still-good venues we have, and playing one of the casinos instead.
The show was – good, maybe even great in spots. But compared to the UK shows I'd seen, there was something missing. Most of the fault lay with the audience, I think – a pretty obnoxious bunch all round. Lots of pushing and shoving, lots of talking (talking! During a Pogues show!). When I quietly asked the guy next to me to please finish trying to make a date with the girl in front of him after the show, he started yelling at me "hey, why don't you go in the back and sit down?" Not sure of the logic there; seems to me that would be a more appropriate place for him to be. But you can see how an exchange like that could put a damper on a good time. Ah, well. I wondered if, despite all the many rabid fans here, stateside Pogues shows could ever be as good as those I'd seen last December.
Thursday saw me alternating between day-dreaming and surfing Medusa, and frantically trying to tie up a few loose ends at work, the better to enjoy myself over the long weekend to come.
When the time to leave came, I trained up to NYC, stopped at my friend's apartment long enough to drop off my bags and pick up the spare keys, and jumped on the subway to Times Square and Connelly's. A quick cell phone chat with Carmen confirmed that several Medusans were already in place. Sure enough, as soon as I walked in I saw a tall smiling guy wearing a "Macrua" nametag, and I knew I was among friends.
The group happily chatting all around me turned out to be Carmen (who I'd met in Glasgow), Neil, and Tar. Georgecat popped up soon after, and Derelicts Mr. and Mrs. could be spotted in the corner. And the gentleman standing next to them? None other than DzM, aka Man of Mystery, drinking one in a series of beers offered up by grateful admirers. All in all, a happy crew.
We made our way over to the venue, the brand-spanking new Nokia theater. Pretty snazzy joint. The first thing that greets you when you go in is the wall of cell phones. Despite knowing it is, after all, the NOKIA theater, it still made me giggle. Once downstairs, all we could see were bars. All well and good, the better to keep DzM properly beered – but where the heck was the actual venue? You know, the room with the lights and a stage? Turns out they keep that cleverly hidden, but we sussed it out and went in. And that's when I got the first sign that this was not going to be another Atlantic City – I heard "Shaking All Over" and knew that once again, we were in Scratchy's hands. As the opening band was winding up their set, I went down to the front. That was tough – whereas in the UK, folks were willing to make room for one more if they could, here the rail was guarded by a handful of big boys who were all taking up as much space as possible. But I hung in there and found a good spot. And soon enough, "Straight to Hell" started, the lights went down, and here they all were.
How to describe the giddy little thrill when the lights come on and the band strides across the stage? I always feel as if I've suddenly had a rush of oxygen whooshing to my brain. Everyone looked sharp – this was New York, after all – and ready to get down to business. After the one-two punch of "Streams" and "If I Should Fall", they went straight into "Broad Majestic Shannon", Shane turning his back on us to conduct the band during the instrumental passage. Then into "Turkish Song" and that incredible stretch from James and Terry. It always strikes me as the first emotional high point of the night, the band tight and focused, culminating in James' perfect collapse (just once, I'd like to see someone come out with a spangled cape for him, a la James Brown – you know he'd shrug it off to knock out one more arpeggio.). But it's still early in the set, there are many more thrills and chills to come. They tear into a dear fave of mine, "Boys from the County Hell", which sounds fantastic. "Tuesday Morning" gets a huge cheer, as it will every night. All around me, folks are rambunctious and sometimes a wee bit crazy but very, very happy. And I'm happy to hear the Celtic football chant rise up now and then, almost as loud as in Glasgow (note – that's not an endorsement of the team, or the sport, or indeed of any sport – it just sounds right at a Pogues show, that's all). After "Young Ned" (another crowd pleaser), Shane is late in returning to the stage. When he does show, he smiles at the audience and says "Patience is a virtue", to which Spider replies "Not to mention a common courtesy". Later in the evening, Shane also makes mention of being in New York – "so nice they named it twice, csssssshhhhhhh", and makes the first of what will be a nightly reference to "Brokeback Mountain" (some things never get old, apparently). When it's time for the second encore, he steps aside for Andrew, who was clearly born to belt out "County Down". Having staked out a spot on the left, I've now got Shane right in front of me, and it's great to watch him join on the chorus of this every night - unlike so many frontmen, Shane doesn't seem to have any problem manning the sidelines, and it's clear he enjoys the song. Then Spider introduces Ella as "someone we've known since she was literally a baby!" (before the weekend is over, this will change to "someone we've known since she was an egg"). She's lovely, wearing that same gorgeous green dress as in Glasgow, although I don't remember those fabulous pink shoes. She and Shane sing beautifully together, Shane watches her lovingly, and they dance to the music, and they dance. They seem to be whirling faster than at the other shows I'd seen – the New York pace, I'm guessing. "Fiesta" sees Spider whip out what looks like a disposable tin cookie sheet, and which makes a very satisfactory sound. The guys take their bows, and Philip steps up to the mic to say "It's one minute after midnight – Happy St. Patrick's Day!" Trust the Pogues to time their show so perfectly. We all yell back, the lights come up, and it hits me – tomorrow is indeed St. Patrick's Day. What sort of show awaits those of us lucky enough to be returning?
I'm awakened Friday morning by a man shouting in the street. At first I can't make out what he's saying, then I hear "You know my name! You know my name! I'm the Doctor! D-O-C!" I'd love to know what this is about but I'm not in the best of moods. My friend's apartment had no heat the night before and I didn't get much sleep. A voicemail check reveals that I neglected to email a critical file before leaving work, which doesn't help my spirits any. But I'm off to meet friends for lunch, and of course there's the evening's entertainment to anticipate.
Approaching the subway, it occurs to me that it is indeed St Patrick's Day in New York, something I've never before experienced. I'm overwhelmed by the sea of green, worn in every conceivable fashion. I marvel at the evolution of a holiday honoring a patron saint – how did it become a day to wear shamrock-shaped deely boppers and florescent green eye shadow? Well, we all celebrate however we can, I suppose. But a little of this goes a long way, and I head back uptown to get a bite to eat and prepare for night number two.
Connelly's is packed, as expected, but I see several Medusans holding down the fort. Aineen and Josie have joined the merry band, the former looking sharp in her Medusa tee shirt.
This time around I get into the Nokia early enough to see William Elliot Whitmore, who is fantastic. I'm down in front again with Aineen, stuck behind a big guy who seems to be one step short of keeling over, from a combination of drink and excitement. Turns out he's a new dad, his wife having given birth just two days before to their first child, a son they've named Finn (though Shane was considered). He proudly shows us the hospital bracelet still on his wrist and shakes his head over his wife's agreeing to let him come to the show (although something tells me she didn't mind getting a few hours' rest without him). He's jumping up and down so hard I fear for everyone's safety, and that's while we're waiting for the Watchmen to come out. They do, to no one's particular enjoyment, at least that's how it seemed to me. The new dad at one point gestured towards them, and in a strikingly plaintive tone, said "if only they would leave, the magic could begin!". I point out that the magic will indeed begin shortly; he gives me a doleful look and tells me he doesn't think he will last that long. He does last, but not before surrendering his spot on the rail to Aineen and me (just as she predicted he would, clever girl!).
Finally the Watchmen go off, Scratchy's at the helm (Madness, Undertones, and Stiff Little Fingers – ah, my youth!), and we wait. A couple of guys next to me tell me they recognize me from my pics on the Medusa board, and that they enjoyed my blog last December. Well, well, imagine that – I'm a celebrity! On the very bottommost rung of fame, of course, but still, it feels nice (and it's to my shame that I cannot remember their user names, but howdy guys, hope you enjoyed the show!). It's a lovely thing, being surrounded by Medusans and other devoted fans – it's family.
Soon enough there's no more talking, Joe is singing and the guys are here. They tear into the set full tilt and don't let up. Shane is totally at the top of his game tonight, and once again proves that any and all rumours of his demise or decline are wildly exaggerated and quite premature. As for the rest – well, there's no getting around it, they are the coolest band in the world. And not just that. They're also incredibly sexy. Now, let me explain. I don't mean that in a gushing, girly, ooh-he's-so-hot kind of way, although they are as good looking a collection of men as you could want. No, this goes deeper than that. As a friend of mine once said about another band, they're grown men who know what they're doing. They do indeed, going about the task at hand with confidence and joy. The music they're playing is earthy, sensual, full of life and drenched in sweat. It hits you square between the eyes, in the heart, and below the belt. Good lord, little wonder there's a free condom table in the lobby. After a couple of hours spent here, I daresay quite a few in the crowd will make good use of the service. It's a happy crowd, that's for sure – not as rowdy as I'd expected but loving every moment of the show.
Everyone enjoys Shane's "walkabout" during White City – he covers the whole stage but keeps the beat throughout, making it back to the mic precisely on cue. When Philip asks us if we're doing alright, he says "Lemme hear a 'Hell Yeah!'", and we give it right back to him. Hell Yeah we're alright, jack, we're with the Pogues and loving it.
All too quickly it's Fairytale time. I take particular notice of the courtly way Shane gathers Ella in his arms when they dance, his hand properly braced against her back, holding her so carefully as they twirl. At that moment, there is no other place I would rather be, no other moment in time in which I could possibly bear to exist, than right here, right now, watching and listening to this wonderful collection of souls, brought together on this, the night of St. Patrick.
Outside it's freezing cold and it will take me far too long to get a cab home. Others will brave the trip to Brooklyn, only to find no Shane spinning songs for their listening or dancing pleasure at BP Fallon's Death Disco. But that's outside - we're still inside, still warm, still rejoicing. Hallelujah.
Discussion is here.