James Fearnley
Born: October 9, 1954 in Worsley, West Manchester, England
Instruments: Accordion, Piano, Guitar, Mandolin, Clarinet, and more
---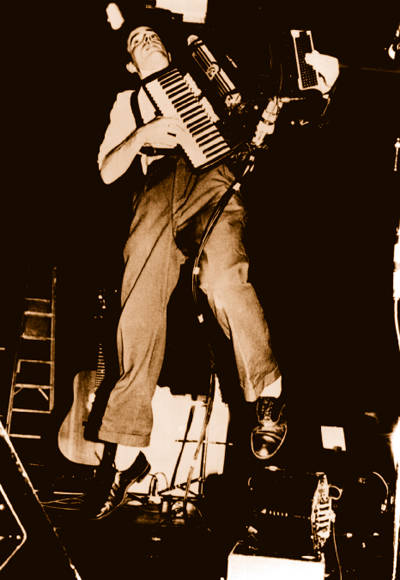 As a child James was a choir treble, but his voice broke at 16. He also took piano lessons, but didn't like it so he learned the guitar instead. He played with the singer Nick Wade and later with a group called The Mixers. James became the guitarist in the last edition of Shane MacGowan's band The Nips. The group then consisted of Shane MacGowan (vocals), Shanne Bradley (bass) and Jon Moss (drums). The Nips broke up at the end of 1980 and James moved on to the soulband The Giants. James was asked by Jon Moss if he wanted to become a permanant member of a group he sometimes he played in, called Culture Club [Just the thought of James playing backup on Karma Chamelian gives me the creeps. - DzM]. Because of a misunderstanding James never joined Culture Club, and shortly after this the group went on to fame.

James sold his guitar and spent a year trying to write a novel. In 1982 Shane and Jem Finer were seeking a accordion-player. Shane knew that James had taken piano lessons and figured thought James could play the accordion too. Jem turned up at James' flat with an accordion in a laundry bag and persuaded him to give it a try. James was nick-named "maestro" because he was the one who could tune the instruments. James married actress Danielle von Zernek in 1989 and bought a house in Los Angeles. He had to travel alot and was unable to be with his family. He left The Pogues in 1994 to remedy this situation.

He became a member of The Low And Sweet Orchestra, which released their debut album of spaghetti-western-ballads "Goodbye To All That" in 1996. The group also consisted of former Phelonius Monster vocalist Mike Martt, The Circle Jerks' Zander Schloss (guitar), the brothers Kieran and Dermot Mulroney (violins, cello, dobro), Tom Barta (bass) and Will Hughes (drums).

Dermot Mulroney has appeared in films like "Copy Cat" and "How to Make an American Quilt". Zander Schloss has been involved writing music for films like "Sid & Nancy" and "Straight To Hell", where The Pogues also were involved. James wrote the track A Dog Came In The Barroom for "Goodbye To All That."

James has also appeared as a guest musician on albums with Talking Heads ("Naked"), David Byrne, LILT and Melissa Etheridge ("Yes I Am", Talking to an Angel).



---

The Low & Sweet Orchestra

GOODBYE TO ALL THAT
Pencils and Shades/Sometimes the Truth is All You Get/Worst Day/A Dog Came in the Barroom/Miss Her Anyway/Take a Long Look/A Nail Won't Fix a Broken Heart/Dirty Freddy Johnson/Identified, Detained and Inspected/ Planxty Del Zamora/There I Thought I Saw You Once Again/I Had to Leave a Friend Behind
UNI/Interscope 6069 900562 (1996)


---

---
Great wads of thanks go to Orjan Folcke for his invaluable help with these biographies.
Additional great wads of thanks go to Jim Pettijohn for information contributed to this page.
Your intrepid maintainer is DzM.